Riviera Consulting is a Telecom/IT Engineering company dedicated to providing the finest in Engineering and IT consulting services. Our members and staff of engineers are highly experienced and dedicated professionals with years of experience in the Telecom and IT industry who strive to provide innovative, powerful, and strategic methodologies to enable organizations to deliver cost effective IT (Information Technology) and Telecom solutions rapidly. Riviera approaches problem solving for its customers by taking a multi-dimensional approach to recommending solutions. By combining the business requirements with accurate technology mappings, Riviera forges an appropriate solution set to complex business needs.
Professional Services: Riviera provides complete staffing, consulting, and BPO solutions to companies throughout the US and India. We provide career opportunities to experienced professionals who are seeking employment at all levels. Our clients are leading companies who want to hire the most qualified candidates with the specific skills, backgrounds, and motivations to help them attain their short- and long-term business goals.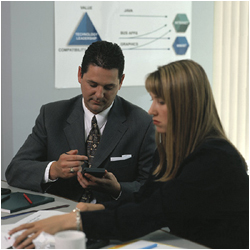 Quicker, smarter, and vastly improved-these days, business moves quickly. But it's not enough to just be fast. You need to be smart and make the most of the tools you have available. Riviera Business Solutions provides the best services to help your business get ahead and stay ahead. Riviera has solid experience in delivering complex and customizable business solutions, including: e-solution, knowledge management solution, and custom business solution.

Committed to delivering innovation, Riviera collaborates with our clients to help them achieve high performance. Our professionals leverage leading-edge technologies and business experience to identify opportunities and drive business process improvements. With deep industry and business process expertise, broad global resources, and a proven track record, Riviera can mobilize the right people, skills, and technologies to help clients improve their performance.